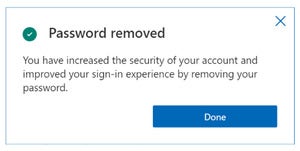 Microsoft is now offering you the choice to get rid of passwords entirely from your Microsoft account, moving to a passwordless future where your phone and face will log you in instead. 
The shift begins today and will roll out through the coming weeks. Your Microsoft account, together with apps that require you to sign in (such as Outlook, OneDrive, and others), won't require you to verify yourself using a password.
So how will your account be secured? In place of a password, Microsoft will use its Microsoft Authenticator app for your phone, Windows Hello, and codes sent to your email or phone in place of a traditional password. We've seen Microsoft offer to sign into your account without a password since 2017, but today is the first day that Microsoft is also inviting you to ditch passwords entirely.
To read this article in full, please click here